How long has your organization been working with the same e-commerce platform that offers a one-size-fits-all solution by default? All the applications work fine, but no single component is actually perfect. There is no single platform, yet that offers all applications for the best e-commerce experience, and there doesn't have to be! The demand for flexibility and simple, scalable systems is increasing, which has led to the creation of a new modular approach: ''Composable Commerce.''
What is composable commerce?
What is composable commerce?
Composable commerce is a business strategy devised by the research and consulting firm Gartner that aims to help companies better compete with "Big Tech" companies such as Apple, Google, Amazon, Facebook and Microsoft.

Central to this strategy are the customer journey, the technical architecture based on MACH and functional components, also referred to by Gartner as "packaged business capabilities" (PBCs).

In composable commerce strategy, the commerce domain is broken down into separate components or building blocks (PBCs). Central are the functionalities that users need to make an online purchase. Each functionality, for example the search function or the shopping cart, forms a building block. The supplier may differ per building block, but the building blocks together do form one modular system.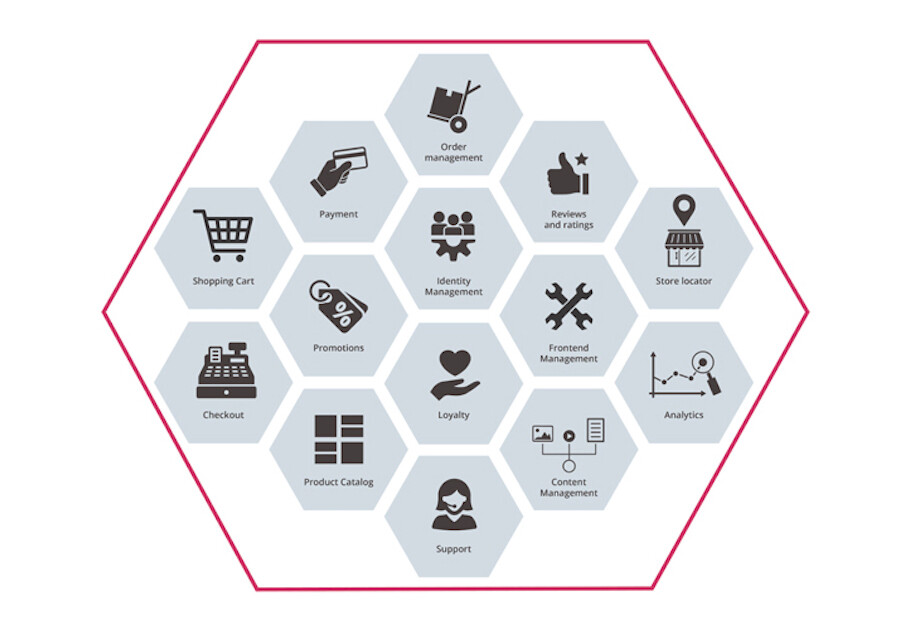 The flexibility of a composable solution ensures that companies only have to focus on the functionalities that are necessary for them. This method leads to platforms without superfluous functions and therefore less code, they can be built faster and can be adapted faster so that changes in the market can be quickly responded to.
Who is composable commerce for?
Composable Commerce is for businesses looking for a more flexible and scalable approach to e-commerce that goes beyond what current all-in-one digital commerce platforms can offer. In practice, this means that a composable commerce strategy is suitable for all companies larger than a sole proprietorship or a small family business.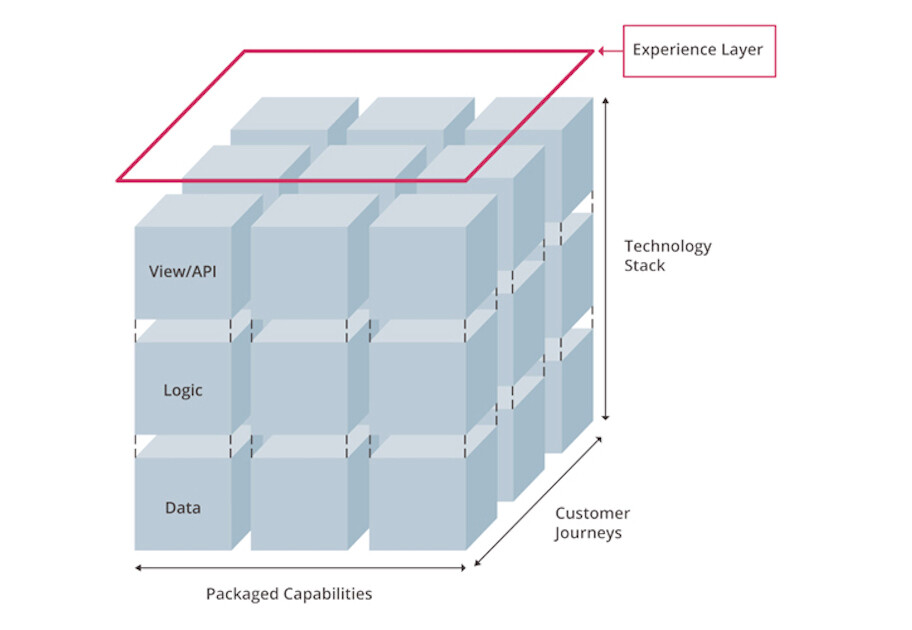 What added value has composable commerce for you?
Composable commerce gives your organization more flexibility in releasing new updates. Because the front-end and backend are separate, they can also easily be released separately. So it's no longer just about a consistent online and offline experience. Commercial businesses are held to a standard that goes further, a standard that requires seamless and connected end-to-end customer journeys, across all touchpoints. It is even more of an omnichannel experience. With composable commerce, vendors can leverage Packaged Business Capabilities to deliver those customer experiences, now and in the future.

The result: agility, flexibility and the ability to outperform the competition!
All the ins & outs about composable commerce
We believe in the flexibility that composable commerce offers organisations. Every component of the digital commerce environment can be quickly and easily modified or replaced without large or complicated migrations.
Want to learn more about the benefits composable commerce offers?
Then download our white paper on the future of e-commerce here.

Get in touch with us
Would you like to know how we can assist your organisation with a composable commerce solution

?
Fill in the contact form, and we will get in touch with you within one working day. Want immediate contact? Call us on 0252 – 75 02 75.