the Kega accelerator for Composable Commerce enables companies to quickly switch to a modern digital commerce platform, based on modular architecture and best-in-class solutions from suppliers selected by Kega. The solution is flexible and scalable, allowing the platform to be simply adjusted to the rapidly changing consumer wishes and behaviour.
Why use an accelerator?
The advantages of a composable e-commerce approach have been described at length in recent years. The modular design with which an e-commerce platform can be compiled on the basis of best-in-class suppliers' products, does indeed provide flexibility, agility and a quick time-to-market, while avoiding "Big Bang" migrations.
There is however a disadvantage to the modular design: the great flexibility and choice options may complicate the process of making the right choices. This Paradox of choice can result in a process of package selection becoming quite time-consuming in practice, so that the quick time-to-market target is no longer achieved.
The Kega accelerator for Composable Commerce prevents this problem. Our solution gives you the best of both worlds: A modern and quick headless front end combined with pre-built components from best-in-class suppliers selected by Kega and a quick time-to-market. The use of pre-selected components allows us to switch much more quickly. The Kega Accelerator then forms a very sturdy foundation for a MACH-based composable commerce strategy.
Components:
The Kega Accelerator for Composable Commerce comprises the following components:
A modern, quick headless front end based on open standards (React, Next.js) and on pre-built components

A user interface (UI) containing all important elements of a web shop

Technical architecture based on MACH and the integration of best-in-class services offered by Kega partners

A solid DevOPs basis

Various best practices based on lessons learned in practice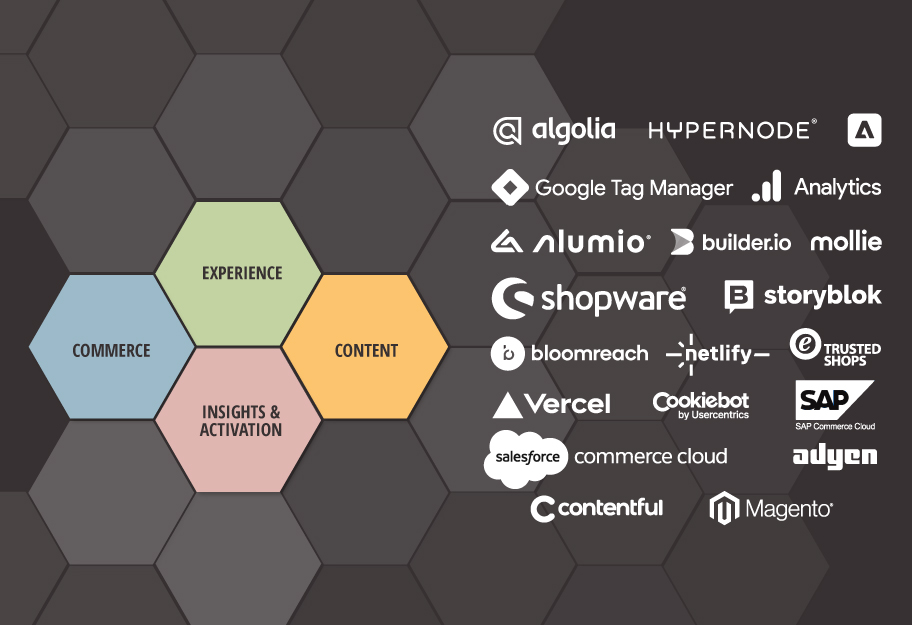 All components of the Accelerator are built by us beforehand and tested in combination. This saves a great deal of time which would normally be spent developing and testing a platform. Even faster enjoyment of the benefits of Composable Commerce?
Many companies have invested heavily in digital commerce platforms, sometimes making it impossible to fully replace their current technical solution in the short term.
Kega has developed the Accelerator to be fully independent of any platform, so that it can in principle work with all existing e-commerce platforms. The only precondition is that the functionality of the existing platform can be accessed via APIs.
Would you like to know more? Read our article on "Composable Commerce: A smaller step than you might imagine"
Whitepaper
Alle ins & outs over composable commerce
Download our whitepaper to learn more about Composable Commerce
Download whitepaper
Contact us
Fill out the contact form and we will be in touch with you within one working day. Prefer to
contact us directly? Feel free to call us at 031 (0)252 – 75 02 75