Privacy and ISO/IEC
Information security is more important than ever, and we are aware of that. Clients and partners need to be able to trust that they are working with an organization that values information security. That is why we do everything to have this in perfect order.
Standards
ISO 27001 is the international standard for information security management. This standard protects the confidentiality, integrity and availability of information. We have implemented the ISO 27001 standards in a way that suits us.
Certification
Since February 4, 2019, we have been officially NEN ISO/IEC 27001:2013 certified. The obtained certificate shows that we have all our processes in the field of information security in good order. The validity of our ISO certification is tested annually by an external party.
Click here to go to the certificate.
Control
The implemented Information Security Management System (ISMS) ensures that we are in control and monitor information security processes. The ISMS is monitored by our Security Officer.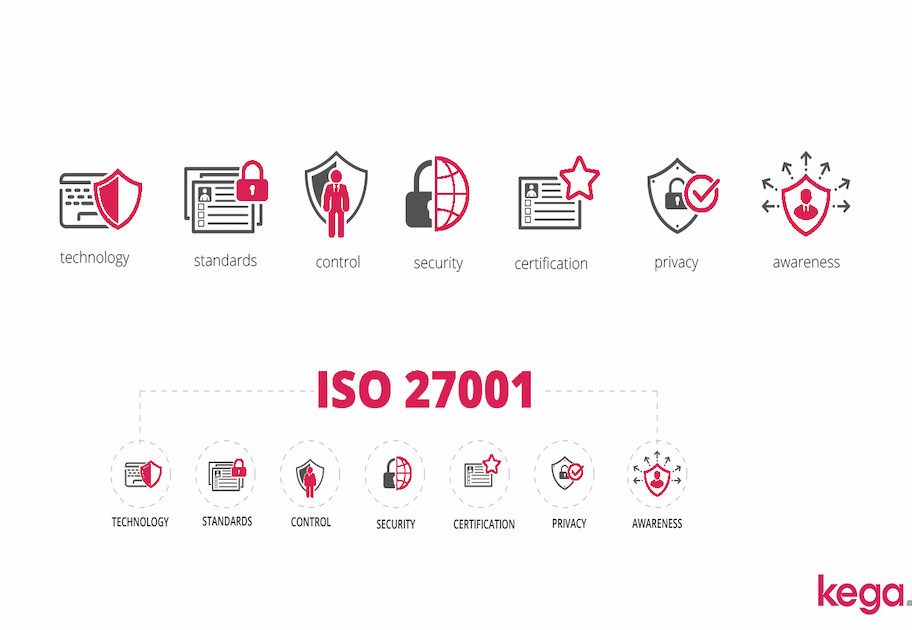 Technology
When building solutions, we use the latest technology and build according to internal and external best practices. In order to guarantee the quality and stability of the software. Our Scrum teams are aware of the latest techniques and try to apply them directly whenever possible. The software and platforms are periodically tested for performance and security.
Security
By applying the latest IT technologies, we try to pursue the highest possible level of security. Whereby the confidentiality, availability and integrity of information remains guaranteed within Kega.
Privacy
Since May 25, 2018, the new AVG privacy legislation has been in effect. Within Kega, we have paid a lot of attention to this. Our colleagues are well-informed on how to deal with personal data.
Awareness
We see the creation of privacy awareness among our colleagues as a crucial point of attention. We do this by providing an introduction to information security and privacy to new colleagues and giving quarterly updates on these topics to all our colleagues.
After all, our colleagues are ultimately the 'ambassadors' of our security and privacy policy.
We will continue to develop ourselves in the field of information security and privacy and in doing so we will also continue to talk to our colleagues, clients, partners and suppliers to take information security to an even higher level.
Do you have a question related to information security or privacy? Please contact our Security Officer, Laure Kuijpers, securityofficer@kega.nl.