Order picking app – effective solution for your organisation
Order picking from the shop floor or the warehouse is one of the most labour-intensive and time-consuming processes in retail and e-commerce. Among the challenges your employees face in the procedure are priority decisions, bulk picking versus picking on individual order or department basis and dealing with defective products. Meanwhile, our retail expertise tells us that there are better, smarter ways of dealing with this complex process. From our professional perspective, the obvious next step is to improve the efficiency of order picking procedures by using the IT solutions that are the natural tools of our trade.
Order Picking App
Experienced problemsolvers
Backed by our many years of retail experience, we are able to deliver practical answers to various business challenges, while our IT expertise allows us to tailor these solutions to the specific needs of individual organisations and make them fully integratable in the existing technology landscape. It is a combination that provides intelligent solutions with optimal
added business value. In a world where Omnichannel is rapidly becoming the standard, it is
vital for new solutions to existing business challenges, like the order picking process, to facilitate low-threshold acceptance and efficient implementation.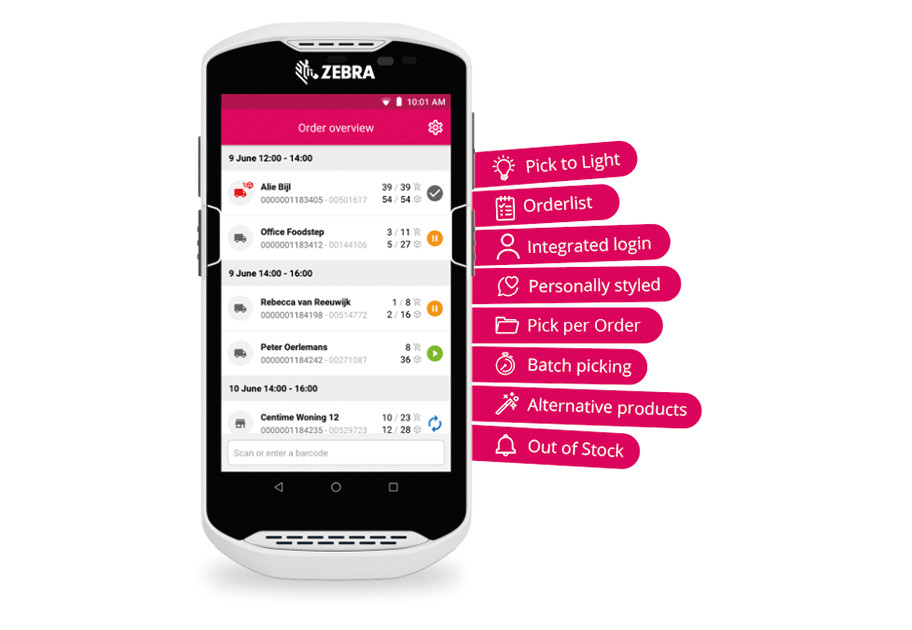 Total unburdening of your employees
The perfect answer to the challenges outlined above, is the order delivery app we now offer out cusmers. An effective, paperless solution that supports your employees in every stage of
the process. Our open API app is fully enabled for ESL-linking, making the order picking
process more efficient than ever before. The app also handles a broad variety of order types,
from home delivery and pick-up orders to express orders, and supports multiple order
picking methods, from bulk collection to order or department-specific picking, totally
unburdening your employees and minimising the risk of errors.
Wij helpen bij het opzetten van succesvolle digital commerce oplossingen
Digital commerce zijn alle oplossingen die jouw organisatie extra omzet opleveren. Wij helpen bedrijven met een heldere en pragmatische analyse van het online landschap en adviseren waar extra waarde is toe te voegen. Ons uitgangspunt is dat de oplossing toekomstbestendig is en flexibel zodat wij jouw organisatie verder brengen door te blijven groeien.

Wat kan je voor ons verwachten?
Interested?
Is your picking process lacking in efficiency? Is the number of picking errors higher than you would like it to be? We would like to hear more about the challenges you face in your daily operations, so we can see what advantages our order delivery app has to offer you and your organisation. If you are interested, please call +31 (0)252 – 750270 for more information.